This year's Fall fashion weeks are over, giving us a rich glimpse into the fashion wave about to break upon U.S. shores. If you couldn't catch any of the fashion weeks on your TV plan, you have missed out on a lot. You really need to look into a better plan that covers the fashion world like Spectrum TV plans. However, don't worry! We are here to keep you updated on the latest changes in the fashion landscape for this autumn/winter. Whether it's sheer skirts or plaid raincoats, we have you covered.
Here are 6 bold ways to look on point this winter:
Sheer Skirts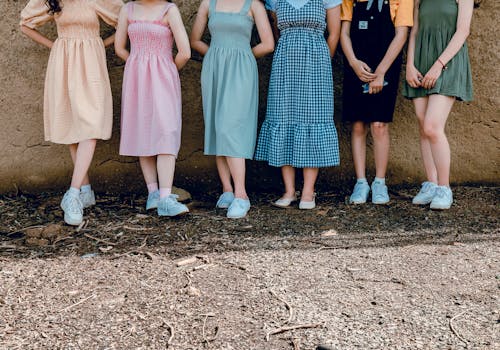 Sheer skirts are dominating street fashion all over the western hemisphere. They make any look go from good to on-point instantly. Many celebs can be seen rocking sheer skirts with revealing thigh-stockings and high-cut underwear. Fortunately, not all of us have to be as brave. Sheer skirts look amazing in a risque way but also when paired with skinny jeans or opaque tights. Try pairing it with a roomy tee and black boots for a wholesome winter look. Or you can be an absolute jaw-dropper and take to the streets pairing it with a cute top, heels and a high-cut bodysuit.
Pantsuits:
Pantsuits, or powersuits as they're popularly known, are making a comeback in a huge way. Not only do they look professional and elegant, you can just as easily rock them in the streets. Pastel powersuits are the epitome of the independent sexy woman of the 21st Century. Pairing strong with sleek, powersuits are proof that you don't need to always express feminine sexuality through short skirts and plunging necklines. Baby blue, baby pink and soft lavender are the colors to go with this season. Paired with a frilly top or collared shirt for a traditional look. If you feel like slaying, try a matching coat and suit with a casual tee for a chic, street-smart look.
Statement Bags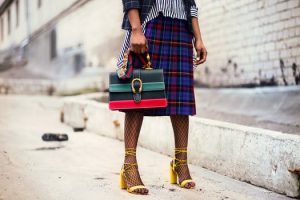 Statement bags should be your favorite accessory this winter because, well, they make a statement. Fashion, in its essence, is an expression of individuality and self, and these printed bags are the perfect way to do that. Add panache to your street style with your favorite quotes printed on your bag. Or embellish a clutch with single words like 'wow', 'fleek' or 'fire'. Let the world know who you are with the dual power of fashion and words.
Ankle Boots
White ankle boots, straight from the 70's, are back to be one of the most popular trends this year. Equal parts expressive and functional in the winter, you can absolutely not do without them. They're all the rage with fashion bloggers, editors, models and celebs this year. The best thing about white ankle boots is their versatility. You can wear them with just about everything. Get a preppy look by pairing them with a pastel pencil skirt and colored shirt. Or get a rocker look with overalls and an expressive T-shirt. The possibilities are endless.
Versatile Emerald
Emerald is dominating the European fashion scene everywhere. And for good reason. The color can act both as a base as well as a subtle contrast to add a point of difference. From emerald heels to emerald pants and skirts, this color will be everywhere this winter. Emerald looks good with any skin tone and can be added to most outfits. For a corporate look, pair a white outfit with classy emerald heels. For a more street standard look, try offsetting deep blue trousers with a pair of emerald kitten heels. Or for the really adventurous, an all-emerald outfit with a darker jacket and a light toned dress.
Street Stripe
The street stripe takes the athleisure legacy to a new level. The sports stripe typically associated with sportswear is literally making its mark on street wear as well. The street stripe is what you get when the sports stripe goes from casual to chic. Many fashionistas are sporting the street stripe along with high heels and we have to say they are absolutely killing it. This trend is perfect for the fitness-oriented as well as those who want to sport active wear without wearing gym attire. It's about as cool as street style gets. It gives off a laid-back aura that is captivating and its comfortable too! It looks astonishingly chic when worn with more dressy or smarter ensembles. The stripe elongates the legs and goes well with blazers, cardigans and sports tees. You can also pair it with a bomber jacket and baseball cap. In any case, you will be among the coolest people on the streets.
Conclusion
Fashion is an ever changing landscape. It is fluid and in constant motion, much like the soul itself. But there are no set rules. Fashion is an expression of individuality, and we strongly encourage our readers to be bold and come up with their own fashion trends. For the fashionistas among you, it's time to step up your game and look into fashion trends all over the world. Try a suitable service provider bundle like Spectrum Internet Plans to keep a constant eye on the fashion scene and stay updated by various shopping marketplaces like eBay, Amazon, TrueGether and more. Come up with your own original style and walk with confidence!